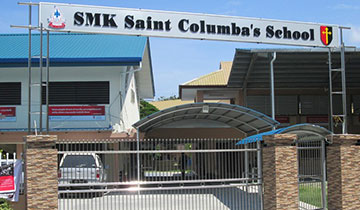 Sekolah Menengah Kebangsaan Saint Columba (Saint Columba's Secondary School) or St. Co, as it is referred to by the locals, is the oldest school in Miri. It is located just one kilometre from the city centre. The school was established in 1929 by Canon Paul Chong En Siong and is currently headed by Mr Subah Anak Nyareng. The school educates students from Transition to Secondary 5 level and it prepares ...

SMK SAINT COLUMBA MIRI
Address: Jalan Dato Abang Indeh, Peti Surat 97, 98007 Miri, Sarawak.
Tel: +6085-436530
Fax: +6085-420519
Email: smkstco@gmail.com
Website: smkstcolumbamiri.gbs2u.com